What Are Orthobiologic Injection Therapies?
Orthobiologic injection therapies offer conservative, nonoperative treatment options for patients with musculoskeletal injuries. They are a viable alternative for patients wishing to avoid or postpone major surgical interventions including tendon repair and joint replacement. Orthobiologic therapies are injections of naturally-occurring biological substances that help heal acute and chronic injuries or painful conditions. These therapies provide natural healing to bone, muscle, tendons, ligaments, and cartilage.
To learn more about orthobiologics at Flagstaff Bone & Joint, please read our book on orthobiologic procedures by clicking the link below.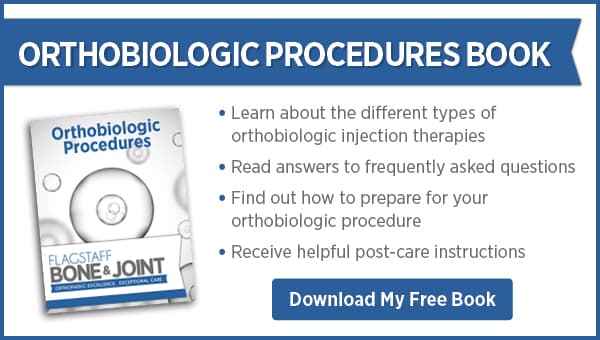 Why Choose Flagstaff Bone & Joint?
Our orthobiologic expert at Flagstaff Bone & Joint completed additional training specifically in orthobiologic injection therapy. With this advanced knowledge and skill, our orthobiologic provider has the experience and expertise to assess, diagnose, and treat you individually to your needs.
To consult with our orthobiologic provider, please request an appointment online or call (928) 773-2280. We have locations in Flagstaff, Kingman, and Cottonwood to best accommodate your needs.