Surgery Center at Flagstaff Bone & Joint
Address
501 North Switzer Canyon Drive
Flagstaff, AZ 86001
United States
Contact Us
Additional Information
Physician-Owned and Operated
Offering advanced orthopaedic surgical techniques and technology to allow patients to return home the same day.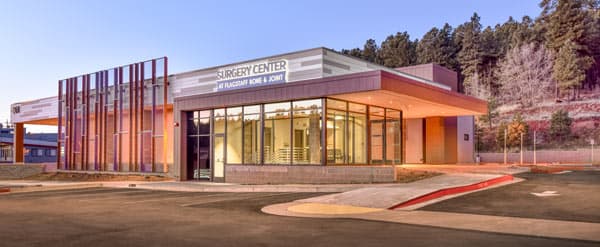 DISCLOSURE OF OWNERSHIP: Your physician has a financial interest in the Surgery Center at Flagstaff Bone & Joint.
Common Outpatient Procedures
Joint Replacement
Partial & Total Knee Replacement
Total Hip Replacement
Total Shoulder Replacement
Hand
Carpal Tunnel Release
DeQuervain's Release
Trigger Finger Release
Ulnar Nerve Release
Sports Medicine
ACL Reconstruction
Arthroscopy (Knee, Shoulder, Ankle, Wrist, Elbow, Hip)
Fracture Care
Ligament Repair
Meniscectomy
Rotator Cuff Repair
Spine & Pain Management
Interventional Spine Injections
Artificial Disc Replacement
Anterior Cervical Discectomy & Fusion (ACDF)
Anterior Lumbar Interbody Fusion (ALIF)
Kyphoplasty
Laminectomy
Microdiscectomy
Posterior Lumbar Interbody Fusion (PLIF)
Transforaminal Lumbar Interbody Fusion (TLIF)
To learn more about our Surgery Center, please click here.