Dr. Ross Jones Performs AZ's First Cervical Total Disc Replacement Surgery Using prodisc C SK Implant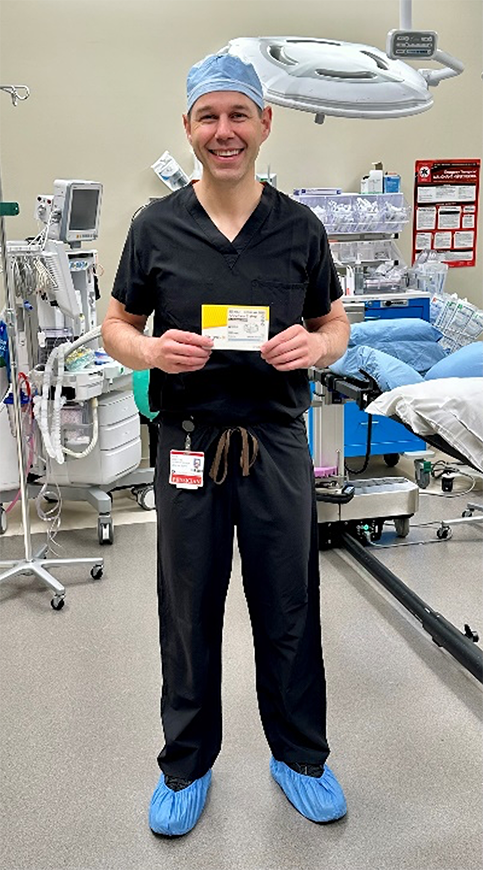 Board-certified and fellowship-trained orthopaedic spine surgeon Dr. Ross Jones is the first spine surgeon in the state of Arizona to perform cervical total disc replacement (TDR) surgery using Centinel Spine's prodisc C SK. As one of the nation's leading surgeons for cervical TDR, Dr. Jones is experienced in using Centinel Spine's prodisc C products, including the prodisc C SK implant.
The prodisc C SK was approved in July 2022 by the U.S. Food and Drug Administration (FDA) for 1-level indications and was designed with a flat endplate to provide optimized positioning. It is part of a portfolio of four FDA-approved prodisc C products that allow surgeons to select the implant that best matches surgical needs and patient anatomy.
"Centinel Spine is uniquely positioned as the only company that has a device that can treat every type of endplate," stated Jones. "Every patient's anatomy is different, and to have the option for multiple implants gives me the opportunity to treat every patient as an individual."
The prodisc C SK procedure was performed in Flagstaff, Arizona, on a 42-year-old female. The patient was experiencing neck pain as well as numbness and tingling down her arm that was unable to be resolved using conservative treatments. Dr. Jones determined her a candidate for a cervical disc replacement as an alternative to cervical fusion, allowing her to maintain motion in the affected area.
Dr. Jones earned his medical degree from the Kansas City University of Medicine and Biosciences in Kansas City, Missouri. He went on to complete residency training in orthopaedic surgery at the Kansas City University of Medicine and Biosciences and St. Mary's Medical Center in Blue Springs, Missouri. After his residency, he underwent an additional year of specialized training through an orthopaedic spine surgery fellowship at the University of Alabama in Birmingham, Alabama. As an advanced, experienced spine specialist, Dr. Jones offers comprehensive care for a range of acute and chronic spinal injuries and conditions.
To read more, click here for an Arizona Daily Sun article featuring Dr. Jones and this procedure.
For more information or to schedule an appointment with Dr. Jones, please call (928) 773-2280.
Mentioned in this story: